You feel like you're traveling down a long, narrow, tunnel. 

Please do not stress. You've come to the right place! We've got you. 
When decorating your long, narrow, living room take a deep breath. Repeat after me "This is not a decorating disaster."
We're going to shake things up and think outside the box. Sweet! Right? 
Keep a few simple sure-fire tips in mind and soon that shoebox-shaped room will be your favorite room in the house! 
Here are the best ways to create welcoming and functional spaces within your long, narrow, living room. 
Begin at the end 

Divide and conquer 

Up, up, up! 

Stay focused (on your focal points) 

Create a perfect pet parlor
Begin at the End 
Ask yourself, what do I want to use the room for once it's decorated? These days most rooms in the house pull double duty.  
The kitchen with a high counter and seating for after-school snacks and homework. The den that's both the home movie theater and a guest room. The master bath also serves as an in-home doggy day spa. Of course!!! 
Decide whether you want to design a space where you'll gather to watch the big game or have a casual meal with friends. It could be a dedicated entertainment area with another area dedicated to your books and a reading nook. Maybe a home office in the middle of all the family action would be a good fit. 
Or some mix of the various functions and uses the possibilities are nearly endless. 
Remember the special, dedicated, space for your pet. Even though we know for a fact  the pets (rulers of the home) will mostly be in whichever space they please.  
The rectangular architecture can seem mystifying if you're placing furniture in a  traditional, seating against the walls with tables in the middle, design. 
The trick is to divide and conquer your living space. 
Divide and Conquer 
Keep the design simple and clearly define the different areas of the living room by  function. 
Say you want your living room to be the place you entertain friends, catch up on emails  and online shopping plus a haven for your pets. (After all, it wouldn't be a living room without your precious pets living in it with you.)
When decorating a long, narrow, living room you need to treat the space as several, separate areas. 
No need to build walls. In fact, you shouldn't put up walls or other barriers because you don't want to chop up the room. Rather, think of it as an open floor plan that flows between the different areas. 
Instead of walls or room dividers use the furniture to create the layout for your different areas, or mini-rooms, within the long living room. 
Placing a desk or a bookshelf at the back of the sofa clearly separates the entertaining area from the home office space. 
A fresh or salt water aquarium puts your beautiful fish on display and is an excellent "invisible wall" when defining space. 
The same for a terrarium or an aviary for your feathered friends. 
Bonus for grouping furniture in the middle of the room rather than in a ring against the long walls. Central groupings will make the whole room appear more symmetrical and wider to match the length. 
You want to be minimalist when it comes to defining your various living spaces and use your creative juices by adding some statement pieces to make the room ever so inviting. 
Raise the bar and lift the eye up. 
Up, up, up! 
When planning your decorating ideas for a long, narrow, living room think - up. 
Lighten up with a soft, light, wall color. You can use either paint or the fun Peel and  Stick/Removable wallpaper. Widely available at home improvement stores and online. 

Install floating shelves to save floor space and draw the eye up to either your favorite  novels or pieces of art. 

If you're going to include a television, mount it up on the wall rather than using a table or  t.v. stand, again you want to save that floor space.

A library ladder guides the eyes up and makes sure your treasures can be displayed up  high while staying readily accessible. 

Pick furniture with exposed, slender legs.  

Incorporate multiple ottomans. They're both mobile and versatile. An ottoman can be  extra seating or serve as a coffee table. 

Nesting tables are also a great space saver that can quickly up your entertaining  tabletop real estate. 

Raised flooring can do double duty by both raising up the view while adding more  storage space. 
Think benches with big under-seat storage areas, a small set of hollow stairs that  doubles as a bookshelf below the stairs. Or, a built-out window sill that has storage  under and a comfy reading spot on a top cushion. 
Pick a statement piece to center each living area around. 
Stay focused (on your focal points) 
Decorating ideas for your long narrow living room should always begin with the focal  point for each, individual, space.
You can use a cool area rug to define a particular grouping of chairs, ottomans, and  tables. A bright pop of sunflower yellow, sea blue teal, or very hot pink can be as  simple as adding a couple of throw pillows for a big impact at a low price. 
Art should always be a focal point incorporated into every space. It's personal, it tells a  story and likely holds happy memories you can share.  
And go big! 8" x 10" is perfectly fine for a fun photo in a little black frame. Your canvas  pieces should be at least in the 12" x 16" neighborhood and 18" x 24" is even better. Hanging a large piece creates the illusion you have a big space for it. 
One of the hottest decorating trends, showing no sign of slowing down, is pet  portraiture. 
Any precious pet can be the artistic inspiration for a portrait created from your personal  favorite pic. 
Look for portraits that offer very neutral backgrounds with some blank space included. This has two benefits. It both gives a feeling of space and makes your precious pets  the literal focal point they already hold in your heart.
Every loving pet deserves its own professional portrait and its own space in the living  room! 
Create a perfect pet parlor 
Create a space just for your pet. Whether it's a funky kitty tree with catnip nearby or a  dog crate with a big basket of toys handy don't hide it, flaunt it! 
Just as with other spaces in the living room define the pet's place with furniture and use  a large art piece to decorate and serve as your focal point. 
A multi-story cat tree with scratching posts and lounging areas creates another place to  guide the eyes up pulling that long, narrow, living room into what feels like a cozier,  more symmetrical space.
A tall, ornate bird cage for your parakeet or parrot also can also raise the decorating power. 
Fish tanks are fantastic for marking off different areas of your long, narrow, living room.  They are essentially clear walls and your pet fish provide the wow factor in any décor. 
You can put your dog's favorite bed and toys underneath a raised floor platform where  the pup can tuck in for a snooze and you still have floor space above. Consider placing  a large, standing, mirror to further open up your room. 
There are many options for every budget when it comes to making the pet's space both  comfortable and functional.
Pet beds from simple cushions to fancy beds with exposed legs should incorporate your  color palette and decorating feel of the rest of the room. 
If you crate your pet you can use their normal crate, top it off with a cool wood, acrylic,  or leather decorative tray and you have a coffee table! 
If your pet is particularly, ahem, enthusiastic, remember no delicate glass on the tray! You could put a big vase with a lid for pet treats on the tray. Absolutely do use a pet  portrait or big sign to decorate and serve as your focal point. 
If you're ready to splurge, there are also tons of dog crates or kitty feeding and litter boxes that are made to look like a side table or other piece of furniture. Like this one from Etsy!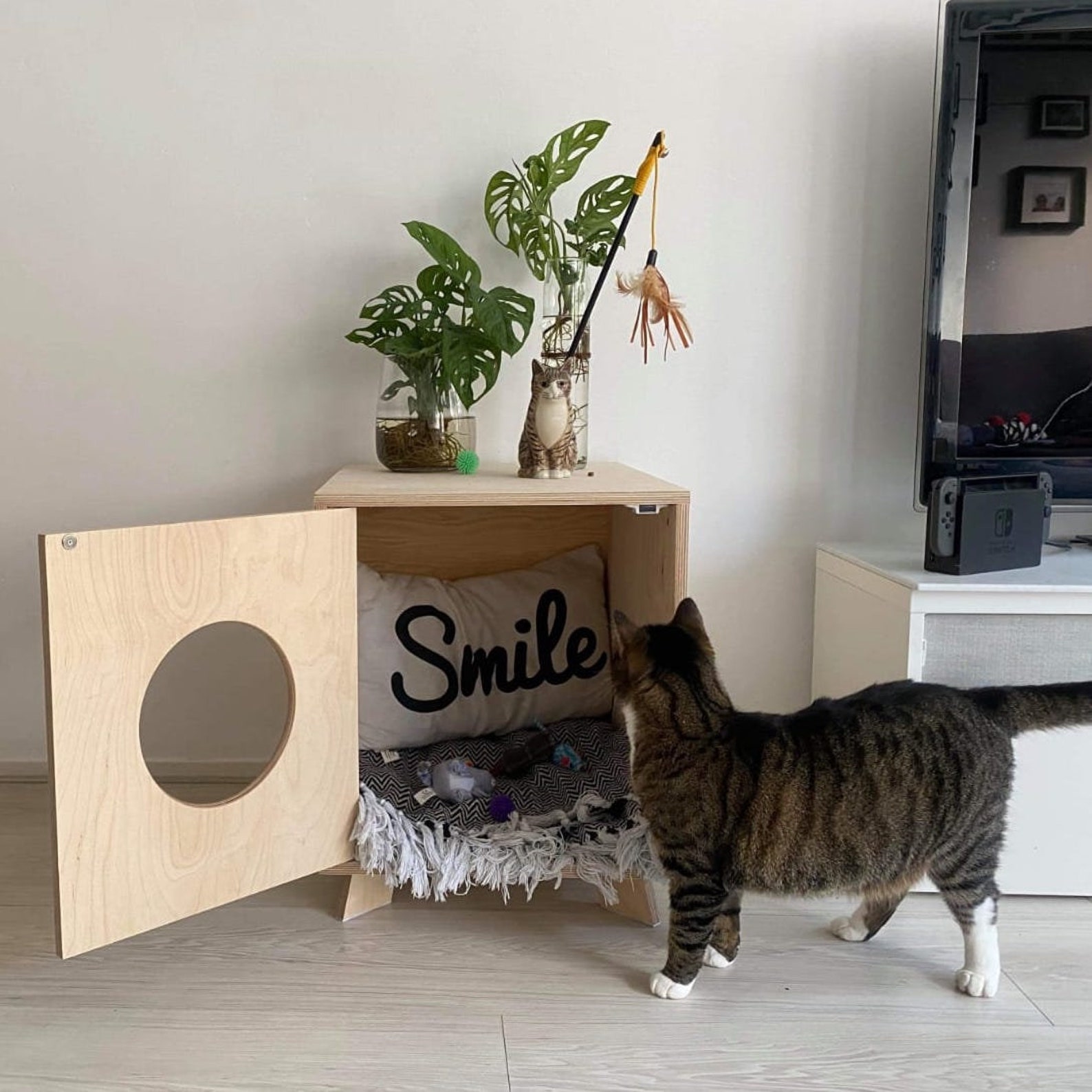 So just follow these simple tips and tricks for decorating a living area you will love sharing with friends and family! 
Decide what you want to use the room for and segment portions of the long,

 

narrow, living room space for use by the functions of that area.

 

Use furniture to divide and define the various living areas.

 

Always incorporate items that save on floor space and guide the eye upward to

 

make the living room feel wider and roomier.

 

Each area needs a focal point. Design around that statement piece to be certain

 

it stands out and grabs the attention you want.

 

Last but perhaps

most

importantly reserve and decorate a space in your living

 

room for your pet. Pets reduce stress, improve the immune system and they

 

wholeheartedly believe you hung the sun and the moon so do pamper them

accordingly!